UO Loop
From World of Dread Database
What is UO Loop?
This program is a simple assistant that permits us execut one key every X MILISECONDS. It is used for macroing in easy an quickly way very simple things like Anatomy, Arms Lore, etc.
Graphic Interface
To execute the macroing program UO Loop we will right-click over the World of Dread icon, next to the clock of our taskbar and we select the "Open Macroing Program" option.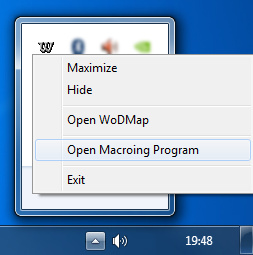 We will see this options: UOLoop, Entrenador and Eenas. We click UOLoop and we will have it ready to use.

This program is very simple: Select a key from the list, put the miliseconds you want and it will execute once you push the START button. Until you push the STOP button, it will not stop. With the new client you can use combinations with the Control and Alt keys.